MicroRNAs: short non-coding players in cancer chemoresistance
Molecular and Cellular Therapies
2014
2:16
Received: 29 January 2014
Accepted: 17 April 2014
Published: 1 June 2014
Abstract
Chemoresistance is one of the main problems in the therapy of cancer. There are a number of different molecular mechanisms through which a cancer cell acquires resistance to a specific treatment, such as alterations in drug uptake, drug metabolism and drug targets. There are several lines of evidence showing that miRNAs are involved in drug sensitivity of cancer cells in different tumor types and by different treatments. In this review, we provide an overview of the more recent and significant findings on the role of miRNAs in cancer cell drug resistance. In particular, we focus on specific miRNA mechanisms of action that in various steps lead from drug cell sensitivity to drug cell resistance. We also provide evidence on how miRNA profiling may unveil relevant predictive biomarkers for therapy outcomes.
Keywords
Chemoresistance
MicroRNA
Multiple drug resistance
Conclusions and future prospectives
Chemoresistance still remains the greatest difficulty to overcome in cancer therapy. The discovery of miRNAs has opened up new opportunities in understanding the molecular mechanisms involved in different diseases and in developing new and more efficient therapies.
As mentioned before, miRNAs are involved in the regulation of different molecular pathways and the capability of modulating the expression of a plethora of genes makes them master regulators of multiple networks, so that even slight modulations in their expression levels may determine significant changes in cancer cell fate.
In this context, the research of potential prognostic power of miRNAs is still at an early stage. Up to now, miRNA signatures have proved to be very useful for classifying different tumors and helpful for diagnosing different cancer types.
As it has been extensively discussed in this review, miRNAs, in regards to tumor cell sensitivity response to different drug treatments, may have a positive or a negative effect, according to the type of drug, cellular context and molecular pathway they control (Figure
2
). All the evidence gathered so far makes it possible to think of therapy development, that include the use, alone or in combination with anticancer drugs, of molecules that antagonize the expression of specific miRNAs, such as antagomirs, or that restore or strengthen the function of miRNAs with an inhibitory effect on the expression of pro-chemoresistance gene, such as mimics. These kinds of molecules have still not been introduced in clinical trials, except for one: the case of Miravirsen, that is the first miRNA-targeted drug to enter clinical trials for the treatment of Hepatitis C virus [
94
]. This drug has successfully reached the 2a phase of a clinical study and it consists in a LNA (Locked Nucleic Acid) against miR-122, the miRNA necessary for Hepatitis C virus replication. This study provides much promise and high hopes for successfully introducing miRNAs in therapies planned for different diseases among which certainly cancer.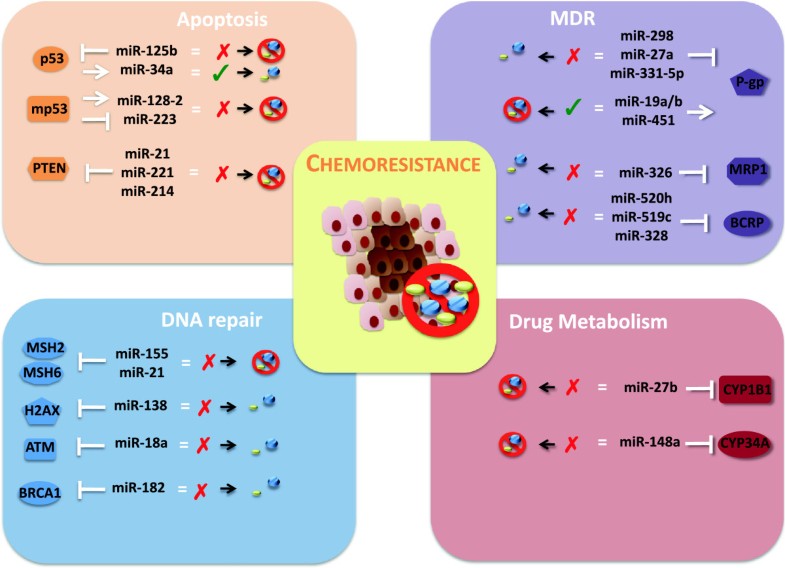 It is also noteworthy to stress the opportunity suggested by miRNA profiling studies in chemoresistant models to use these molecules as predictive biomarkers of therapy outcomes, in order to develop more effective personalized treatments.
Thus, we can conclude that in such small molecules great promise is hidden for the future of cancer therapy.
Abbreviations
miRNA:

microRNA
HCC:

Human hepatocellular carcinoma
MRP-1:

Multidrug resistance-associated protein 1
MDR:

Multidrug resistance
MDR-1:

Multidrug resistance 1.
Declarations
Acknowledgements
Contribution of Associazione Italiana per la Ricerca sul Cancro-Rome Oncogenomic Center to GB, AIRC grant N°14455 to GB and of Epigen (MIUR/CNR) was greatly appreciated. We are grateful to Mrs Tania Merlino for proofreading the manuscript.
Authors' Affiliations
(1)
Translational Oncogenomics Unit, Italian National Cancer Institute 'Regina Elena', Rome, Italy
(2)
Molecular Chemoprevention Unit, Italian National Cancer Institute 'Regina Elena', Rome, Italy
(3)
Department of Oncology, Juravinski Cancer Center-McMaster University, Hamilton, Canada
(4)
College of Agriculture and Environmental Sciences, Unisa, Florida campus, Johannesburg, South Africa
Copyright
© Donzelli et al.; licensee BioMed Central Ltd. 2014
This article is published under license to BioMed Central Ltd. This is an Open Access article distributed under the terms of the Creative Commons Attribution License (http://creativecommons.org/licenses/by/2.0), which permits unrestricted use, distribution, and reproduction in any medium, provided the original work is properly credited. The Creative Commons Public Domain Dedication waiver (http://creativecommons.org/publicdomain/zero/1.0/) applies to the data made available in this article, unless otherwise stated.