Role of solute carriers in response to anticancer drugs
Molecular and Cellular Therapies
2014
2:15
Received: 17 February 2014
Accepted: 14 May 2014
Published: 27 May 2014
Abstract
Membrane transporters play critical roles in moving a variety of anticancer drugs across cancer cell membrane, thereby determining chemotherapy efficacy and/or toxicity. The retention of anticancer drugs in cancer cells is the result of net function of efflux and influx transporters. The ATP-binding cassette (ABC) transporters are mainly the efflux transporters expressing at cancer cells, conferring the chemo-resistance in various malignant tumors, which has been well documented over the past decades. However, the function of influx transporters, in particular the solute carriers (SLC) in cancer cells, has only been recently well recognized to have significant impact on cancer therapy. The SLC transporters not only directly bring anticancer agents into cancer cells but also serve as the uptake mediators of essential nutrients for tumor growth and survival. In this review, we concentrate on the interaction of SLC transporters with anticancer drugs and nutrients, and their impact on chemo-sensitivity or -resistance of cancer cells. The differential expression patterns of SLC transporters between normal and tumor tissues may be well utilized to achieve specific delivery of chemotherapeutic agents.
Keywords
Anticancer drugs
Solute carriers (SLC)
Chemosensitivity
Chemoresistance
Review
Membrane transporters play critical roles in moving a myriad of endogenous and exogenous substances across cellular and organelle membranes, including the major nutrient metabolites sugars, digested peptides, amino acids and nucleosides, rare elements such as hormones and neurotransmitters, and xenobiotics. These transporters are encoded by numerous gene families, accounting for approximately 4% of genes in human genome[
1
]. Clinically used drugs usually have similar physiochemical structures with certain endogenous substrates. In the last two decades, a variety of membrane transporters have been recognized as drug transporters. These drug transporters are of essential importance in determining drug pharmacokinetics, efficacy and adverse effects. Based on the driving force, drug transporters are characterized by two major superfamilies, the solute carriers (SLC) and the ATP-binding cassette (ABC) transporters which can each be functionally classified into influx and efflux transporters according to the direction of movement of substrates (Figure
1
).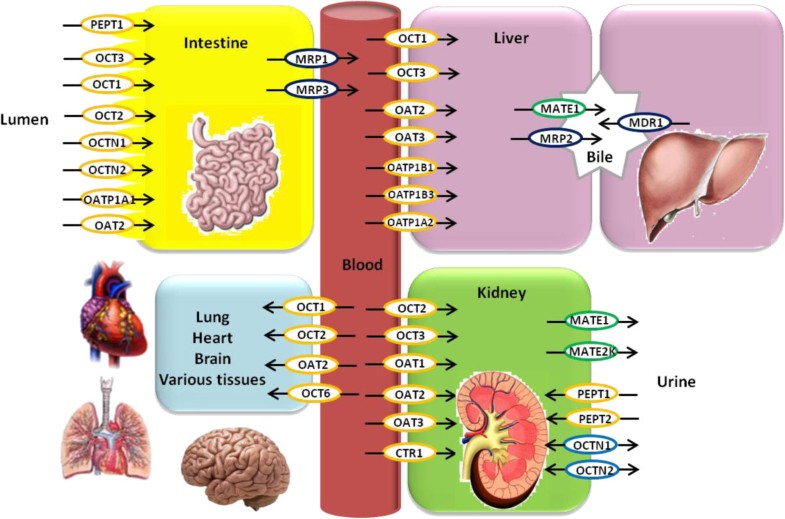 As reviewed elsewhere, the ABC transporters, which are typical efflux drug transporters using energy from the hydrolysis of ATP as the driving force to move substrates against the electrochemical gradients outward or into intracellular organelles. The 49 ABC transporters can be classified into 7 subfamilies from A to G subfamily[2–5]. In the past two decades, accumulating evidence has shown that enhanced expression of several ABC transporter genes is associated with reduced cellular accumulation of anticancer drugs and acquired multidrug resistance in many human cancer cells. Those ABC transporters of importance in cancer therapy have been well documented for ABCB1 (or MDR1), ABCC1 (or MRP1), ABCC2 (or MRP2), and ABCG1 (or BCRP)[6–8]. By contrast, the impact of the solute carriers (SLC), which are usually influx or bi-directional transporters, on cancer therapy has not been extensively characterized. In this review, we provide updates on the documented interaction of SLC transporters with anti-cancer drugs.
More than 400 SLC transporter genes have been identified and grouped into 55 families, including ion coupled transporters, exchangers and passive transporters located at the plasma membrane or in intracellular organelles (e.g. mitochondrial or vesicular transporters)[
9
]. Unlike ABC transporters which driving energy is provided by hydrolysis of ATP, SLC proteins work either by facilitating passive diffusion along the concentration gradient of the substrate or by co-transport and counter-transport against the concentration gradient of another solute. The superfamily of SLCs is responsible for mediating the transport of a wide spectrum of substrates, including different nutrients as well as drugs[
10
].The SLC transporters expressed in the small intestine, the liver, and the kidney may be of particular importance for the disposition of cancer drugs. Interindividual variation in the activities of these transporters may cause altered pharmacokinetic profiles of anticancer drugs, subsequently leading to variability in the pharmacodynamic effects. The SLC transporters expressed in cancer cells play an important role in cellular uptake of cancer drugs, which may be a determinant step toward anti-cancer efficacy. Indeed, cancer cells are more likely to show substantially different expression profiles of SLC transporters as compared to those of normal cells. Moreover, by mediating the transport of essential nutrient molecules and modulating the electrochemical gradient across the membranes, SLC proteins can function to modify the efficiency of drug diffusion into cells or alter cell survival pathways, consequently influencing chemotherapeutic efficacy (sensitivity or resistance). In certain cases, cancer cells may possess enhanced expression of SLC transporters for certain nutritional requirements and take a growth advantage over normal cells when nutrients become restricted (Figure
2
).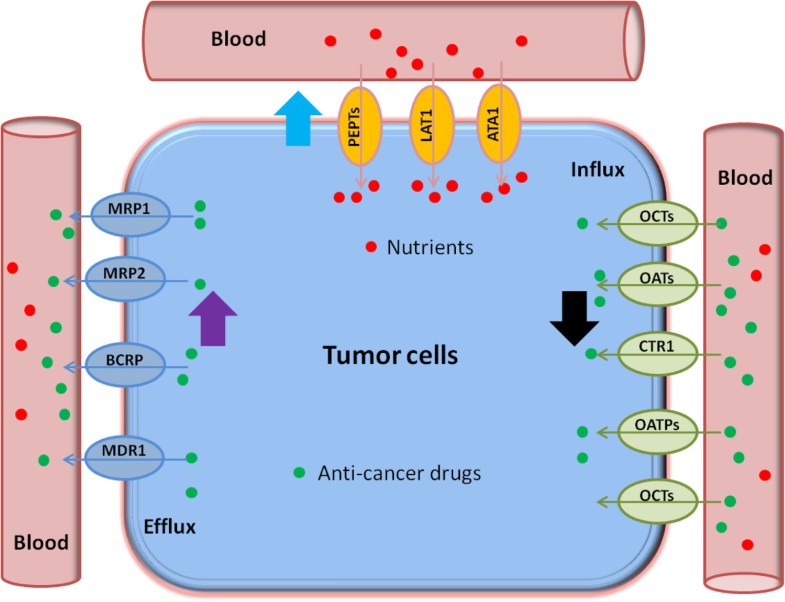 To improve outcomes of cancer therapy, it is necessary to fully characterize the function of SLC drug transporters in the organs critical to the disposition of anti-cancer drugs, such as intestine, liver and kidney. Moreover, by understanding the altered expression of SLC transporters in various cancer cells, we may develop novel therapeutic strategies to treat cancers. For instance, transporter-targeted chemotherapy may be achieved
via
down-regulation of certain essential transporters for cancer cell survival. The major subfamilies of SLC members, which are, to different extents, explored in their association with cancer therapy, include the following: folate transporters (SLC19A1 and SLC 46A1), which are particularly important for antifolate chemotherapy of cancer and reviewed elsewhere[
11
–
13
]; organic cation transporters (OCT) (SLC22A1-3); organic anion transporters (OAT) (SLC22A6-8); organic cation/carnitine transporters (SLC22A4-5); organic anion transporters polypeptides (OATPs) (SLCO); copper transporters (SLC31A); multidrug and toxin extrusion proteins (MATEs) (SLC47A), which intriguingly function as efflux transporters in certain tissues; oligopeptide transporters (SLC15A1/2); and amino acid transporters (SLC7A and SLC3A) (Figure
3
).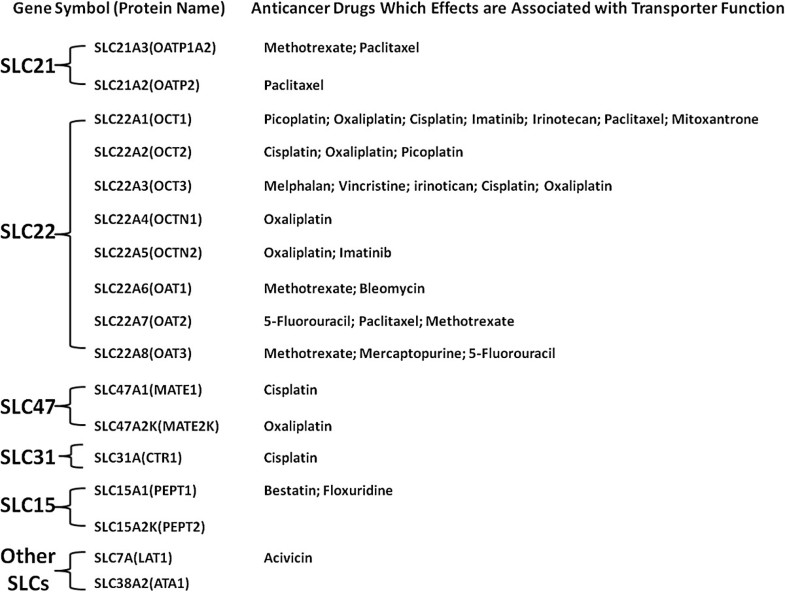 Conclusions
It is critical to target drugs to tumor cells in order to improve the clinical efficacy and avoid the adverse effects of anticancer drugs. The efficacy of chemotherapy may be largely dependent on the relative activity of transporters in normal and cancer tissues. In addition to already extensively investigated efflux transporters, multiple types of membrane influx transporters, in particular the SLC superfamily members play very important roles in conferring sensitivity and resistance to anticancer agents. These SLC transporters not only directly bring anticancer agents into cancer cells but also serve as the uptake mediators of essential nutrients for tumor growth and survival. The differential expression patterns of SLC transporters between normal and tumor tissues may be well utilized to achieve specific delivery of chemotherapeutic agents. The transporters may be also directly targeted in development of anticancer drugs to increase chemosensitivity, for example, via limiting nutrient supply to cancer cells and regulating their apoptosis and electrochemical gradients. The SLC transporters expressed in the intestine, liver and kidney are of particular importance as their activity may be critical to systemic exposure and disposition of various anticancer agents, serving as a common basis or determinant for drug-drug interaction, pharmacological effects, and side effects. The function of SLC transporters in anticancer drug disposition and action has been increasingly recognized. However, the major biological implication and pathophysiological function of these membrane proteins are far from clear and under extensive exploration. With advanced knowledge of SLC transporters, their role in the development, optimization, and personalization of anticancer medicine will be further underscored and merited.
Declarations
Acknowledgements
Qing Li received research support from National Natural Science Foundation (NNSF) of China (81001445). The present study was partly supported by the National Institute of General Medical Sciences of the US National Institutes of Health (NIH) under Award R01GM099742, and by the US Food and Drug Administration (FDA) under Award U01FD004320. The content is solely the responsibility of the authors and does not necessarily represent the official views of the NNSF, NIH and FDA.
Authors' Affiliations
(1)
Department of Pharmaceutical Sciences, School of Pharmacy, University of Maryland at Baltimore, Baltimore, USA
(2)
Institute of Clinical Pharmacology, Central South University, Changsha, China
Copyright
© Li and Shu; licensee BioMed Central Ltd. 2014
This article is published under license to BioMed Central Ltd. This is an Open Access article distributed under the terms of the Creative Commons Attribution License (http://creativecommons.org/licenses/by/4.0), which permits unrestricted use, distribution, and reproduction in any medium, provided the original work is properly credited. The Creative Commons Public Domain Dedication waiver (http://creativecommons.org/publicdomain/zero/1.0/) applies to the data made available in this article, unless otherwise stated.