Targeting the Wnt pathways for therapies
Artem Blagodatski

†

1,

Dmitry Poteryaev

†

2 and

Vladimir L Katanaev

3

Email author
Molecular and Cellular Therapies
2014
2:28
Received: 22 June 2014
Accepted: 5 September 2014
Published: 11 September 2014
Abstract
The Wnt/β-catenin signaling pathway is crucial in animal development from sponges to humans. Its activity in the adulthood is less general, with exceptions having huge medical importance. Namely, improper activation of this pathway is carcinogenic in many tissues, most notably in the colon, liver and the breast. On the other hand, the Wnt/β-catenin signaling must be re-activated in cases of tissue damage, and insufficient activation results in regeneration failure and degeneration. These both medically important implications are unified by the emerging importance of this signaling pathway in the control of proliferation of various types of stem cells, crucial for tissue regeneration and, in case of cancer stem cells – cancer progression and relapse. This article aims at briefly reviewing the current state of knowledge in the field of Wnt signaling, followed by a detailed discussion of current medical developments targeting distinct branches of the Wnt pathway for anti-cancer and pro-regeneration therapies.
Keywords
Wnt
Frizzled
Cancer
Regeneration
Drug discovery
Introduction: the Wnt signaling pathways
The Wnt signaling plays instrumental roles in animal development[
1
]. This type of intracellular signaling apparently was 'invented' together with (or in requirement for) animal multi-cellularity, as its architecture and components are already present in the simplest metazoans such as sponges and ctenophores[
2
,
3
]. The pathway is initiated by secreted lipoglycoproteins of the Wnt family, of which 19 members exist in humans. Given the numerous post-translational modifications and the need for a tightly controlled manner of Wnt diffusion through the tissue, the secretion apparatus within the Wnt-producing cells is rather complex[
4
]. In the signal-receiving cells, Wnt activates a receptor of the Frizzled (FZD) family (10 members in humans) and a LRP5/6 co-receptor (2 members in humans). While LRP5/6 are single-transmembrane proteins, FZDs possess seven transmembrane domains and belong to the G protein-coupled receptor (GPCR) superfamily[
5
]. Although initially questioned as functional GPCRs, FZDs in recent years have been clearly demonstrated, by genetic and biochemical means, to signal through heterotrimeric G proteins[
6
–
11
]. Together with the latter, a cytoplasmic protein Dishevelled (Dvl) acts as an immediate transducer of the signal from the receptors[
12
]. Both types of transducers act on Axin[
13
,
14
] – a key component of the β-catenin-destruction complex also including the protein APC and kinases GSK3β and casein kinase. The function of this complex is to phosphorylate cytoplasmic β-catenin, targeting it for ubiquitin-dependent proteasomal degradation[
15
]. With dysfunctional Axin, the destruction complex becomes inactive, leading to accumulation of β-catenin, its translocation to the nucleus, and activation of LEF/TCF-dependent transcription[
16
] (Figure
1
). Among Wnt-target genes are pro-proliferative c-Myc and cycD1[
17
]. In addition to the pathway directly initiated from the plasma membrane, Wnt-receptor complexes can also be internalized, in a heterotrimeric G protein- and Rab5-dependent manner, into signaling endosomes, which is required for the amplification of the signaling strength[
18
,
19
].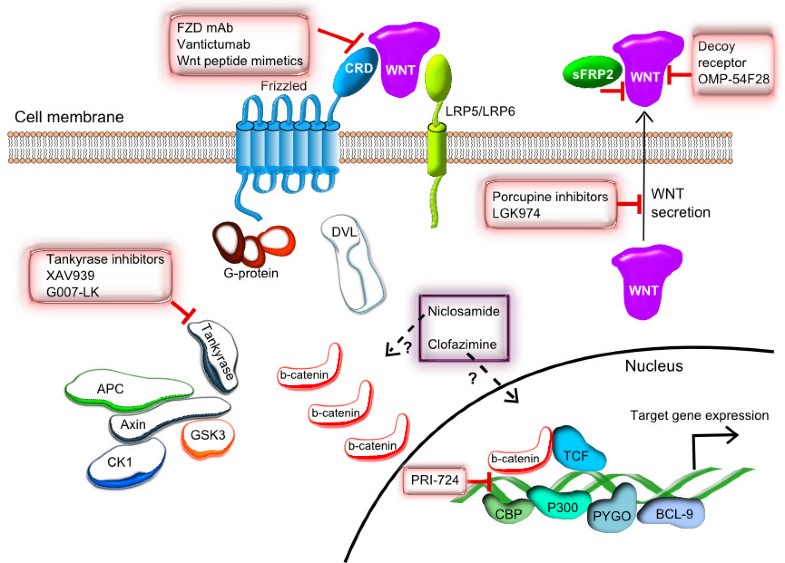 The β-catenin-dependent Wnt signaling pathway described above is often referred to as the "canonical" Wnt signaling. In addition to it, a group of "non-canonical", β-catenin-independent pathways can be initiated by Wnt/FZD complexes[20]. They can increase concentration of intracellular calcium ions and regulate the cytoskeleton and ultimately – cell polarity and motility. They can also antagonize the β-catenin-dependent signaling in certain contexts[21]. Apart from heterotrimeric G proteins and Dvl, no other components of the β-catenin-dependent pathway are involved in "non-canonical" signaling. Our review will only episodically touch upon these types of Wnt signaling, mostly concentrating on the Wnt/β-catenin pro-proliferative branch.
The Wnt/β-catenin signaling is repeatedly used during animal development. Given this important developmental function, the role of this pathway in regulation of stem cell proliferation and differentiation, which emerges as a unifying function of this pathway in the adult, both in the physiological and pathological contexts, is not surprising. Initially Wnt/β-catenin signaling has been shown to be crucial for the maintenance and self-renewal of hematopoietic cells[22]. This discovery was corroborated by subsequent findings of the necessity of this pathway for proliferation of neuronal[23], embryonic[24], mammary[25], intestinal[26] and other types of stem cells. Finally, the role of Wnt/β-catenin signaling in cancer stem cells (CSCs) has also emerged[27]. These discoveries form the basis for the translational efforts of targeting (suppressing or activating) the Wnt/β-catenin signaling in anti-cancer and regeneration therapies, discussed below.
Conclusion
As discussed above, Wnt signaling plays important functions in cancer progression and tissue regeneration. Ironically, what is therapeutically good for one (activation of the pathway in regeneration) is bad in for the other (anti-cancer treatment). Thus, extreme care must be taken when developing Wnt-stimulating pro-regenerative drugs, to exclude the risks of cancer complications. This demand appears not un-achievable through design of highly specific and/or local activators of the Wnt pathways. On the other hand, the expected side effects in targeting the Wnt/β-catenin pathway in anti-cancer treatments are myelo- and gastrointestinal suppression, exactly due to the adverse effects of anti-Wnt treatments on proliferation of hematopoetic and intestinal stem cells, as well as progenitor cells in other organs. Here again, a hope is for designing specific agents targeting the Wnt/FZD sub-pathways activated in a given cancer, rather than blocking the Wnt/β-catenin signaling altogether[159]. In this regard, attacking higher 'floors' of the signaling hierarchy – i.e. the ligands and receptors – appears especially promising[48, 158]. It is important to remember that the Wnt pathways must be fine-tuned for the normal physiology control. As recent works indicate[47], even moderate attenuation of Wnt signaling can eliminate its carcinogenic potential. Therefore it is possible to keep the "good" physiological level of Wnt signaling by finding the right target and a right tool to act on this target in a desired mode. Perhaps the fact that Wnt signaling in tumor tissues is exacerbated relative to normal tissue as well as a potential of normal tissue to recover could provide the safe window of Wnt inhibition in therapy.
Abbreviations
AML:

Acute myeloid leukemia
2-AMBMP:

2-amino-4-(3,4- (methylenedioxy)benzylamino)-6-(3-methoxyphenyl)pyrimidine
6-BIO:

Bromoindirubin-30-Oxime
CSC:

Cancer stem cell
Dvl:

Dishevelled
FZD:

Frizzled
GPCR:

G-protein coupled receptor
HCC:

Hepatocellular carcinoma
mAb:

Monoclonal antibody
PCP:

Planar cell polarity
sFRP:

Secreted Frizzled-related protein
siRNA:

Small interfering RNA
TNK:

Tankyrase.
Declarations
Acknowledgements
This work was funded by the Swiss Cancer League (grant number KFS-2978-08-2012 to V.L.K.) and the Dynasty Foundation (grant number DP-B-14/13 to A.B.). We thank Dr. Gonzalo Solis for critically reading the manuscript.
Authors' Affiliations
(1)
Institute of Protein Research, Russian Academy of Sciences, Pushchino, Russian Federation
(2)
IBC Generium LLC, Volginsky, Russian Federation
(3)
Department of Pharmacology and Toxicology, University of Lausanne, Lausanne, Switzerland
Copyright
© Blagodatski et al.; licensee BioMed Central Ltd. 2014
This article is published under license to BioMed Central Ltd. This is an Open Access article distributed under the terms of the Creative Commons Attribution License (http://creativecommons.org/licenses/by/4.0), which permits unrestricted use, distribution, and reproduction in any medium, provided the original work is properly credited. The Creative Commons Public Domain Dedication waiver (http://creativecommons.org/publicdomain/zero/1.0/) applies to the data made available in this article, unless otherwise stated.