Improvements in biomaterial matrices for neural precursor cell transplantation
Molecular and Cellular Therapies
2014
2:19
Received: 27 January 2014
Accepted: 5 June 2014
Published: 1 July 2014
Abstract
Progress is being made in developing neuroprotective strategies for traumatic brain injuries; however, there will never be a therapy that will fully preserve neurons that are injured from moderate to severe head injuries. Therefore, to restore neurological function, regenerative strategies will be required. Given the limited regenerative capacity of the resident neural precursors of the CNS, many investigators have evaluated the regenerative potential of transplanted precursors. Unfortunately, these precursors do not thrive when engrafted without a biomaterial scaffold. In this article we review the types of natural and synthetic materials that are being used in brain tissue engineering applications for traumatic brain injury and stroke. We also analyze modifications of the scaffolds including immobilizing drugs, growth factors and extracellular matrix molecules to improve CNS regeneration and functional recovery. We conclude with a discussion of some of the challenges that remain to be solved towards repairing and regenerating the brain.
Keywords
Tissue engineering
Neural stem cells
Scaffold
Biomaterials
CNS
Brain injury
TBI
Stroke
Transplantation
Review
Introduction
Tissue engineering (TE) is a relatively new and expanding field. Using principles from material engineering and molecular biology, tissue engineers develop organic substitutes to support or replace portions of malfunctioning tissues or organs [1]. These substitutes are commonly created using living cells, biomaterial scaffolding and signaling molecules [2]. Studies have shown that cell replacement and tissue repair is improved when engrafted cells are delivered on a biomaterial scaffold. This is because a scaffold can provide structural support for the cells as well as carry necessary factors that enhance their survival and function. TE has been investigated in a variety of organs and is an area of active investigation for central nervous system (CNS) repair. TE for brain injury has not been as widely explored — likely due to the complexity of central neural circuitry. TE has recently gained in popularity with the realization that transplanting stem cells with a biomaterial substrate is more effective. In this article we review progress to date employing TE to promote cell replacement using neural precursors (NPs) to restore neurological function after traumatic brain injuries and stroke. The therapeutic value in transplanting neural precursors is extremely high due to the inability of neurons to undergo mitosis and the incapacity of the brain to repair large injuries on its own.
Review
Stem cell transplantation using biomaterial scaffolds
Numerous studies have been performed
in vitro
to compare the efficacy of scaffolds for neuronal differentiation and survival [
97
,
121
,
122
] however; studies are just now being published reporting the efficacy of stem cells transplanted together with a biomaterial matrix in TBI models. Each scientific team has chosen to use a different biomaterial matrix. To date, scaffolds using natural and synthetic materials constructed into rigid microparticles, rigid nanofibers and hydrogels have been tested. Moreover, in some cases the scaffolds were modified by the addition of growth factors and/or ECM molecules (Table
1
).
Table 1
Brain tissue engineering studies
| Author | Scaffold material | Cell source | Injury model |
| --- | --- | --- | --- |
| Natural materials | | | |
| [40] Tate et al. | Collagen gel + laminin/fibronectin | Mouse NPs | TBI (fluid percussion) |
| [42] Yu et al. | Collagen type 1 gel | E14 Rat NPs | Ischemic Stroke (MCAO) |
| [125] Elias et al. | Collagen scaffold | Adult hippocampal NPs | TBI (penetrative) |
| [126] Jin et al. | Matrigel™ | Human NPs derived from ESC line | Ischemic Stroke (MCAO) |
| [127] Liang et al. | Hyaluronic acid | C17.2 cell line, ReNcells, and GRPs | None |
| [128] Wang et al. | Decellularized and lyophilized Porcine Urinary Bladder | Rat NPs | TBI (CCI) |
| Synthetic materials | | | |
| [129] Park et al. | Fibrous PLGA | C17.2 | Ischemic Stroke (MCAO) |
| [130] Bible et al. | ppAm-PLGA microparticles + fibronectin | MHP36 cell line | Transient stroke (MCAO) |
| [131] Cheng TY et al. | RADA16-IKVAV self-assembling nanofiber | Rat neuronal progenitor cell line HCN-A94-2 | Biopsy punch |
| Incorporation of growth factors | | | |
| [161] Bible et al. | PLGA + VEGF | Human cell line from 12 wk. old fetus (ReNeuron) | Ischemic Stroke (MCAO) |
| [170] Skop et al. | Chitosan-Heparin (genipin crosslinked) + fibronectin + FGF-2 | E13.5 Rat NPs | TBI (CCI) |
Natural biomaterials
Tate and Shear, were some of the first investigators to use stem cells for brain TE in models of TBI. They produced collagen gels that contained either fibronectin and/or laminin and showed that these scaffolds increased the survival of transplanted mouse NPs compared to NPs transplanted without the collagen matrix. The majority of cells observed weeks and months later were glia and mainly NG2+ oligodendrocyte progenitors. Tate et al. [39], obtained better long-term survival of NPs when transplanted within a supportive fibronectin and laminin matrix after TBI than transplanted directly into the brain parenchyma. Animals receiving these transplants also showed improved performance in spatial learning tasks compared to injured mice that did not receive NPs [40]. Similarly, Yu et al. [42], transplanted E14 rat NPs within a collagen type 1 hydrogel into an adult rat model of transient cerebral ischemic injury. Twenty-four hours after middle cerebral artery occlusion (MCAO) the NPs were transplanted directly into the tissue lesion with or without the scaffold. They reported that the collagen-NP scaffold promoted tissue repair better than the NPs alone. Yu et al. [42], also reported that some NPs differentiated into neurons and formed synapses, which correlated with improvements in functional recovery.
Elias et al. [123], used a similar approach repurposed for TBI. They designed a collagen scaffold to deliver adult rat hippocampal NPs in a penetrative TBI model and delivered the NPs 1 week post-injury. When examined 4 weeks later, NPs transplanted on the scaffold showed increased survival and migration compared to cells injected without the scaffold; however, neuronal engraftment was not observed as only glial and endothelial cells were observed amongst the grafted cells. They concluded that an additional growth factor or biochemical stimulus would be needed to achieve differentiated neurons in vivo.
Jin et al. [124], used Matrigel™ to deliver NPs to treat focal cerebral ischemia. Human NPs derived from the ESC line BG01, were transplanted within Matrigel™ scaffolds into rats recovering from MCAO by electrocoagulation 3 weeks prior. NPs transplanted within Matrigel™ decreased the infarct volume by 60%, which was superior to protection obtained when only cells or only scaffolds were injected. Moreover, cells provided with a scaffold showed greater survival and neuronal differentiation evidence by immunostaining and patch-clamp recordings. Four to 9 weeks post-transplantation improvements in sensorimotor and cognitive function were observed. While these results are promising, Matrigel™ is formed from the ECM secreted by mouse tumor cells. The specific composition is Matrigel™ is thus not suitable for clinical studies.
Another popular material being explored is hyaluronic acid, which is an abundant glycosaminoglycan in the brain. Liang et al. [125], incorporated C17.2 cells, human NP cells (ReNcells) and human glial restricted precursors into a hyaluronic acid: gelatin: polyethyleneglycol diacrylate (2:2:1) gel. C17.2 cells were transplanted into the brains of immune-competent rats whereas the ReNcells and the glial precursors were transplanted into the brains of immuno-competent mice. Survival rates for each type of precursor cell improved when encapsulated within the hydrogel.
In a very unique study, Wang et al. [126] cultured NPs in a bioreactive scaffold fabricated from porcine urinary bladders. The matrix was produced from a powder obtained after de-cellularizing and lyophilizing the bladder. De-cellularized organs (often bladders, livers and kidneys) are rich in ECM proteins like laminin, fibronectin and collagen. This powder was then rehydrated to form a hydrogel. Wang et al. [126] transplanted NPs into the brains of rats recovering from severe controlled cortical impact (CCI) injuries. This matrix supported NP proliferation and differentiation while also reducing inflammation. Furthermore, studies through 4 weeks showed improvements in motor memory and cognition that correlated with reduced tissue damage, neuron loss and white matter injury. Transplanting urinary bladder matrix alone generated the same motor and sensorimotor recovery as combined therapy; however, only the scaffold plus NPs attenuated memory and cognitive function.
Synthetic biomaterials
Although not as commonly employed as natural materials, synthetic materials also have been used in brain TE applications. Park et al. [127] demonstrated greater engraftment using a polymer scaffold in a stroke model. They used a fibrous poly(glycolic acid) scaffold seeded with the C17.2 cell line and showed that these cells could differentiate and reduce the extent of inflammation and glial scarring. In a more advanced study, Bible et al. [128], produced 100–200 μm PLGA microparticles that were plasma polymerized allylamine(ppAm) treated and coated with fibronectin. MHP36 NPs were transplanted on these microparticles 2 weeks after transient right MCAO. They reported that the cells integrated effectively within the host tissue and formed primitive neural tissue evidenced by Sox2, NeuN and GFAP staining. Surprisingly, Bible et al. [128] determined that transplanting MHP36 NPs into intact tissue lead to further damage.
Some groups are encapsulating NPs into self-assembling peptide hydrogels. Peptides readily self-assemble and they can form nano-fibrous networks that mimic native ECM. Moreover, like hydrogels they can be injected in soluble form and subsequently solidify to form gels in situ. Cheng et al. [129], linked the laminin adhesion motif isoleucine-lysine-valine-alanine-valine (IKVAV) to a self-assembling peptide AcN-RADARADARADARADA-CONH2 (RADA16) to form a hydrogel that possessed a mechanical stiffness similar to brain tissue. Rat NPs were encapsulated in the RADA16 –IKVAV hydrogel and transplanted into rats recovering from a 2 mm biopsy punch-induced neocortical injury. Histological analyses revealed that the RADA16 –IKVAV gel enhanced the survival of transplanted NPs (compared to NPs delivered in saline), that it reduced glial scar formation and by 6 weeks post-transplantation some of the precursors had differentiated into immature and mature neurons evidenced by βIII-tubulin, neurofilament-H, synapsin-1 and MAP2 immunostaining. Some of these cells also expressed the astrocytic marker, GFAP.
Incorporating growth factors
Many of the aforementioned studies reported that cell survival was often poor and neuronal differentiation difficult to achieve from transplanted neural stem and progenitor cells. Therefore, investigators have found that they need to increase the complexity of their scaffolds to incorporate survival and/or differentiation factors. Neurotrophic factors have been incorporated into biomaterial based drug delivery systems to promote nervous tissue repair. Nerve growth factor (NGF) [130–136], glial cell line-derived neurotrophic factor (GDNF) [137–142], brain derived neurotrophic factor (BDNF) [141, 143–145] and neurotrophin-3 (NT-3) [90, 135, 141, 146–148] have all been added to biomaterials to treat TBI as well as neurodegenerative disorders spinal cord injuries and peripheral nerve injuries. Growth factors such as fibroblast growth factor-2 (FGF-2), epidermal growth factor (EGF), platelet-derived growth factor (PDGF) and vascular endothelial growth factor (VEGF) also have been used for a range of CNS disorders [147–158].
In their studies, Bible et al. [159], noted that the tissue that formed wasn't sufficiently vascularized and hypothesized that this was likely due to deficiencies in nutrients and oxygen. Therefore, in a subsequent study they incorporated 0.1% (w/v) vascular endothelial growth factor (VEGF) into the PLGA microparticles (50–100 μm) to induce angiogenesis. When transplanted 2 weeks post-MCAO [159], Bible et al., noticed significant endothelial cell infiltration and neovasularization within the tissue formed by a conditionally immortalized human NP cell line that had been transplanted on the VEGF-PLGA microparticles into the damaged hemisphere. Microglial infiltration was also observed in these conditions. Although, the VEGF promoted neurovascularizataion, neither the survival nor the differentiation of the engrafted cells was improved.
For the past several years we have endeavored to produce a multifunctional microsphere scaffold optimized for transplanting NPs into the TBI brain. The scaffold that we have fabricated is produced by electrospraying a 3% chitosan solution into a coagulation bath to generate microspheres that range from 30-100 μm in diameter (mean: 64 μm). Similar gelation techniques have been used in other drug delivery methods because it is a simple process with few demerits [
160
–
162
]. Heparin, which binds FGF-2 with high affinity while retaining its biological activity, is then covalently cross-linked to the chitosan scaffolds using genipin (Figure
2
). At 1 μg/mL approximately 80% of the FGF-2 binds to the scaffold. The scaffold is then further modified by coating it with fibronectin to promote cell attachment and to increase proliferation while decreasing differentiation through integrin signaling pathways. The rationale for using FGF-2, is that this growth factor is a known mitogen and survival factor for NPs and it also maintains them in a primitive state and FGF-2 also has been shown to increase the numbers of stem/progenitor cells in the SVZ following TBI [
163
,
164
]. Interestingly, soluble FGF-2 has been reported to have a half-life of 24 hours at 32°C [
165
] and less than 5 hours at 37°C [
166
]. On the other hand, it stability increases when affixed to heparan sulfate proteoglycans [
167
]. Therefore, we predicted that immobilizing the FGF-2 to the scaffold would increase its biological half-life. Indeed, we have shown that fetal rat NPs plated onto a multifunctional film comprised as described above proliferated and remained multipotent for at least 3 days without providing soluble FGF-2. Moreover, they remained less mature and more highly proliferative than cells maintained on fibronectin-coated substrates in culture medium supplemented with soluble FGF-2 [
168
,
169
].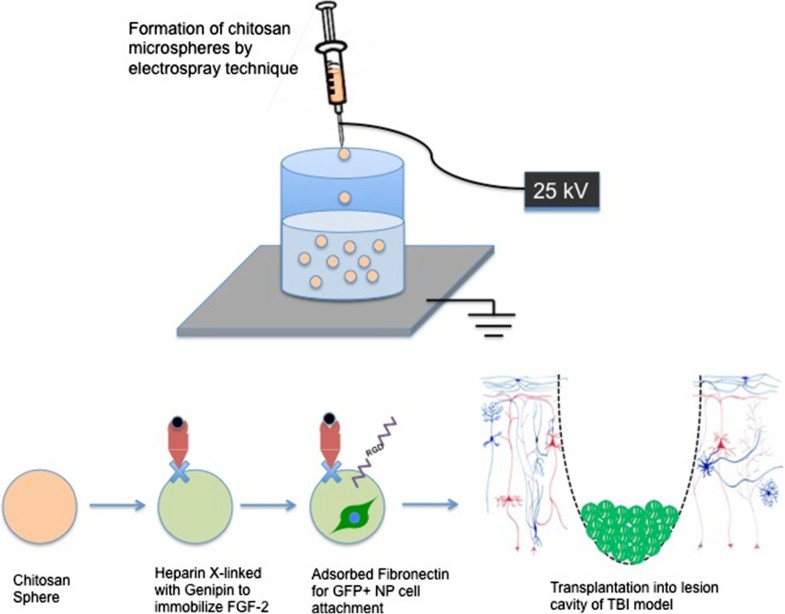 When these multifunctional microspheres containing adherent embryonic rat radial glial cells (RGCs) that expressed green fluorescent protein were injected subacutely (7 days post injury) into the lesion cavities of adult rats that had previously sustained CCI injuries, NPs adhered to the microspheres could be observed 3 days after transplantation surrounding the microspheres and these cells were immunopositive for the primitive stem cell/progenitor markers Nestin and BLBP. Furthermore, these transplanted RGCs expressed the cell proliferation marker Ki67. At 2 weeks post-transplantation, the transplanted cells showed a reduction in stem cell/progenitor markers compared to 3 days, having acquired doublecortin (DCX), Vimentin, and Oligodendrocyte Lineage Transcription Factor 2 (Olig2), markers indicative of maturation towards neuronal, astrocytic and oligodendrocytic lineages respectively. Two weeks are still too early to expect differentiation into fully mature neurons, astrocytes, and oligodendrocytes and the continuous supply of FGF-2 from the scaffold will have delayed this process. Studies examining differentiation at 1 month post-transplantation or longer will be necessary.
We are very encouraged by these findings as they suggest that this paradigm enables balanced production of the 3 neural cell types found in the brain, whereas most groups [8, 18, 38, 39] that have transplanted primary NPs find that the majority of transplanted cells differentiate into glial cells. Furthermore, with this approach, large numbers of engrafted cells are observed that are repopulating portions of the injury and these cells are spreading across damaged neocortical regions with little clustering. This is notable, as NPs transplanted without a scaffold often remain clustered at the site of injection [89]. It is possible that the FGF-2 that is delivered on the scaffold is facilitating the migration of the NPs [40]. Several of the groups listed above also have reported greater migration of transplanted NPs when delivered using a biomaterial scaffold.
Future directions
Significant progress has been made in neural TE, yet there are further modifications that can be made to enhance regeneration by combining stem cells and biomaterials. Four major areas of concern exist: 1) achieving a high percentage of cells that survive transplantation and persist after engraftment; 2) obtaining the correct types of differentiated cells; 3) obtaining the correct balance of the different neuronal subtypes and ensuring that they are positioned appropriately; and 4) facilitating the integration of these new neurons into existing circuits. Of these, the first 3 can be addressed by improvements in neural TE.
Progress continues to be made to address the problem of poor cell survival by modifying the biomaterial support and new innovations are being implemented that include altering the engrafted cells by introducing trophic factor genes or preconditioning the cells prior to transplantation [52]. For example, investigators have transduced NPs using lentiviral vectors encoding the neurotrophic factors BDNF, CNTF, GDNF, and NT-3 prior to implanting these cells into the injured brain [170]. Genetically engineering stem cells prior to transplantation may seem promising; however, this manipulation will create hurdles that will slow translation of this therapeutic approach into the clinic. Another approach that has been used to modify the engrafted cells is to precondition the cells. Sakata et al. [171], preconditioned NPs with interlukin-6 (IL-6) before transplanting them 6–7 hours after transient MCAO. The preconditioned NPs were protected from death and they released VEGF resulting in increased angiogenesis within the target site.
As an alternative to pre-conditioning or genetically engineering cells prior to delivery, cells can be seeded onto scaffolds that contain components necessary to induce these changes. Investigators are developing biomaterials that contain immobilized plasmids that are taken up by both the transplanted cells as well as by endogenous cells to modify their gene expression [172–174]. With this approach a variety of different gene products can be provided, and it is relatively simple to deliver multiple gene products simultaneously. Incorporating plasmids into biomaterial scaffolds has been applied towards liver [175], cartilage [176, 177], bone [178–180], skin [181], vascular/heart [182–184] and spinal cord injury [185] TE applications. Brain injuries would likely benefit from biomaterials seeded with stem cells and loaded with plasmids that would promote cell growth, neovascularization, and support donor cell survival until they can receive trophic support from their synaptic partners.
Investigators are also realizing that the developing brain is generated from a variety of different NPs; therefore, they are being more precise in matching the type of neural precursor used for engraftment. As iPSC technology becomes more refined, investigators will be able to more accurately control the type of NP that can be used for transplantation. Controlling which cell types are produced and controlling the timing of their production will require that the local environment surrounding the engrafted cells provides them with appropriate signals. Therefore, investigators will need to establish the means to deliver relevant growth and differentiation factors in a temporally defined sequence. This might require that peptides or plasmids are encapsulated for slow release from the scaffold or that they are encapsulated in a form that requires processing to become biologically active.
Another problem that needs to be overcome is to devise a strategy to regenerate a laminated brain tissue. All of the studies to date have employed basic TE strategies to enhance NP engraftment, survival and orchestrating a balanced production of neuronal and glial lineages. In order to fully repair a brain lesion, the architecture of the regenerated neural parenchyma must recapitulate the structure of the adjacent host tissue. This is especially true in the case of the neocortex, a region of the brain that is frequently damaged by trauma. The neocortex is a laminar tissue with 6 layers where the neurons located within each layer have specific neurochemical properties and they receive inputs from specific brain regions. Moreover, they send their axons to other, highly specified targets. Thus, in regenerating the neocortex, the neurons that reside in the deeper layers of the cortex (layers 5 and 6) cannot be located in more superficial regions (layers 1 through 4), and vice versa. It has been documented that NPs have the ability to sense their surroundings and reorganize to appropriately fit a cortical layer [186], though it is not likely that transplanted NPs will do the same. Therefore, new biomaterial techniques will be required to ensure the appropriate differentiation and location of NPs within the specific brain region of interest. For the neocortex, we can envision creating a multilayered scaffold, in which the different biomaterial layers govern the migration, differentiation and survival of appropriate laminar neurons. Alternatively, it might be possible to inject a biomaterial that would organize into a gradient and within this gradient, plasmids, proteins or other bioactive molecules would be organized to promote the systematic migration and differentiation of engrafted NPs [187]. Although it may be more difficult to achieve such a highly organized structure as required to repair neural circuits compared to other organ systems, utilizing TE applications to heal the injured brain remains a promising discipline for future studies.
Conclusion
Over the past decade, TE strategies have been designed and tested for brain injury repair. Studies have shown that engraftment is improved when the stem cells are provided functionalized biomaterial scaffolds. These biomaterial scaffolds allow essential growth factors and other beneficial molecules to be delivered resulting in improved NP survival and repair. Even though natural materials have been more commonly evaluated, there is little evidence that they are superior to synthetic materials. While great progress has been achieved, additional research is necessary to determine which material(s), growth factors and/or pharmaceutical agents produce the best outcome and to determine how to best deliver them. Additional research also is needed to match the donor cells to the region of brain damage.
Abbreviations
BDNF:

Brain derived neurotrophic factor
CCI:

Controlled cortical impact
CNS:

Central nervous system
CNTF:

Ciliary neurotrophic factor
ECM:

Extracellular matrix
EGF:

Epidermal growth factor
ESC:

Embryonic stem cell
FGF-2:

Fibroblast growth factor 2
GAG:

Glycosaminoglycan
GDNF:

Glial cell line-derived neurotrophic factor
iPSC:

Induced pluripotent stem cell
MCAO:

Middle cerebral artery occlusion
NDD:

Neural degenerative disorders
NGF:

Nerve growth factor
NP:

Neural precursor
NSC:

Neural stem cell
NT-3:

Neurotrophin-3
PDGF:

Platelet-derived growth factor
PLGA:

Poly(lactic co-glycolic acid)
PNI:

Peripheral nerve injury
RGC:

Radial glial cell
SCI:

Spinal cord injury
SVZ:

Subventricular zone
TBI:

Traumatic brain injury
TE:

Tissue engineering
VEGF:

Vascular endothelial growth factor
VZ:

Ventricular zone.
Declarations
Acknowledgements
This study was partially supported by the New Jersey Commission on Brain Injury Research grant number 08.001.BIR2 awarded to C.D.G. and S.W.L. and fellowship grant number CBIR12FEL025 awarded to N.B.S.
Authors' Affiliations
(1)
Department of Neurology & Neurosciences, Rutgers University-New Jersey Medical School, NJMS-Cancer Center, Newark, USA
(2)
Department of Neurological Surgery, Rutgers University-New Jersey Medical School, New Jersey Medical School, Newark, USA
(3)
Department of Biomedical Engineering, New Jersey Institute of Technology, Newark, USA
Copyright
© Skop et al.; licensee BioMed Central Ltd. 2014
This article is published under license to BioMed Central Ltd. This is an Open Access article distributed under the terms of the Creative Commons Attribution License (http://creativecommons.org/licenses/by/2.0), which permits unrestricted use, distribution, and reproduction in any medium, provided the original work is properly credited. The Creative Commons Public Domain Dedication waiver (http://creativecommons.org/publicdomain/zero/1.0/) applies to the data made available in this article, unless otherwise stated.